Artist Joe T. Burns Reveals the Faces Behind the Names of the Minnesota Masonic Heritage Center
June 2, 2016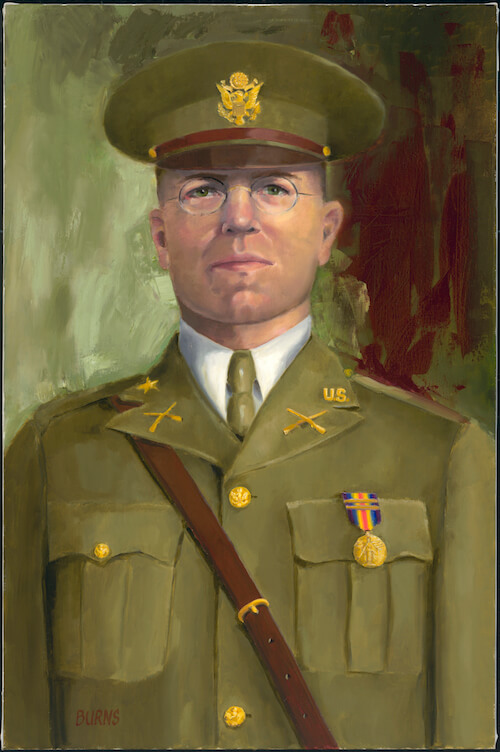 Artist Joe T. Burns well captures the likeness of Colonel James B. Ladd, above.
From its elegant auditorium to the expansive museum and library, the components of the Minnesota Masonic Heritage Center have been named after Masons who have advanced Freemasonry and its contributions to the state of Minnesota. For example, the Charles W. Nelson library is named for the founder of the Minnesota Masonic Historical Society & Museum and a former member of the Board of Trustees of Minnesota Masonic Home. Worshipful Brothers Charles W. Nelson also played a key role in Minnesota's historic preservation, serving as the first historical architect in the State Historic Preservation Office.
To pay homage to Nelson and the other significant Masonic figures whose names grace the MMHC, noted artist Joe T. Burns was commissioned to paint their portraits for display in the Center. Burns, who divides his time between painting and coaching wrestling at Southwest High School, was a former graphic artist who was inspired to paint by renowned artists John Singer Sargent, Jeffrey T. Larson, Scott Lloyd Anderson and others.
In 2006, Burns returned to school for four years, attending intensive, seven-hours-per-day classes at The Atelier Studio Program of Fine Arts in Minneapolis.
"Although the Atelier elevated my ability to draw and paint, what I really learned there was to see, and then how to interpret on canvas what people believe they are seeing," said Burns of the legendary school, with its roots in 19th century French Impressionism.
Next up: a glimpse into the new Colonel James B. Ladd Masonic Museum! Stay tuned!
Artist Joe T. Burns Reveals the Faces Behind the Names of the Minnesota Masonic Heritage Center