Board Room for Rent
October 5, 2016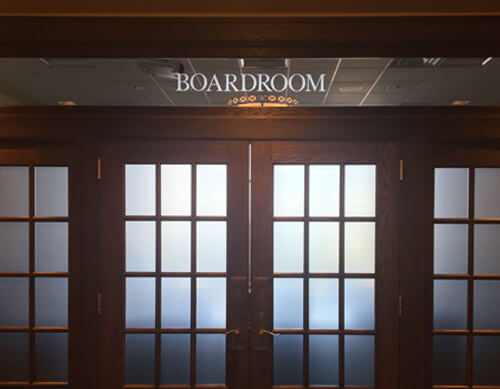 Not looking forward to a meeting in your old board room? Ready to try something new? Need a nice space closer to the airport? Book a meeting in our board room! Labeled simply as BOARDROOM, this comfortable and technologically advanced space is well suited for formal business meetings, presentations and conference calls and is one more quality space available for rent at the Minnesota Masonic Heritage Center.
Technology
Located on the Heritage Center's second floor, the room features a horseshoe-shaped dark marble table with comfortable seating for 18, plus extra space for special guests or technicians. Large windows on the west side of the room let in natural light. For smaller meetings, attendees can pull chairs into the center. Meeting participants can also avail themselves of the table's built-in outlets and ports for computers and tablets and phones—and enjoy free wifi.
For video conferencing or formal presentations, the room includes a full remote controlled screen with an overhead projector. Presenters can use computers to present information, or employ a mix of tools. The room is big enough to allow for more traditional easels with white boards or paper tablets as well.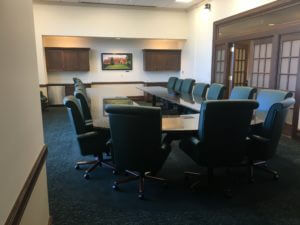 Comfort
For guests' comfort, the room comes with a walk-in closet for coats or other outer wear, as well as a mini-fridge for cold beverages. The Heritage Center also has a full catering kitchen, if guests want to explore options for snacks or a meal.
Hosting important clients, prospective clients, partners, or guests from out of town? The Minnesota Masonic Heritage Center is located close to the airport and airport hotels (and the Mall of America), and has plenty of free parking. To learn more about renting this prime space as well as catering options, please contact Lauren Ide at 952-948-6502 or lauren.ide@mnmasonic.org.