The White House Stone with a Mason's Mark
August 31, 2017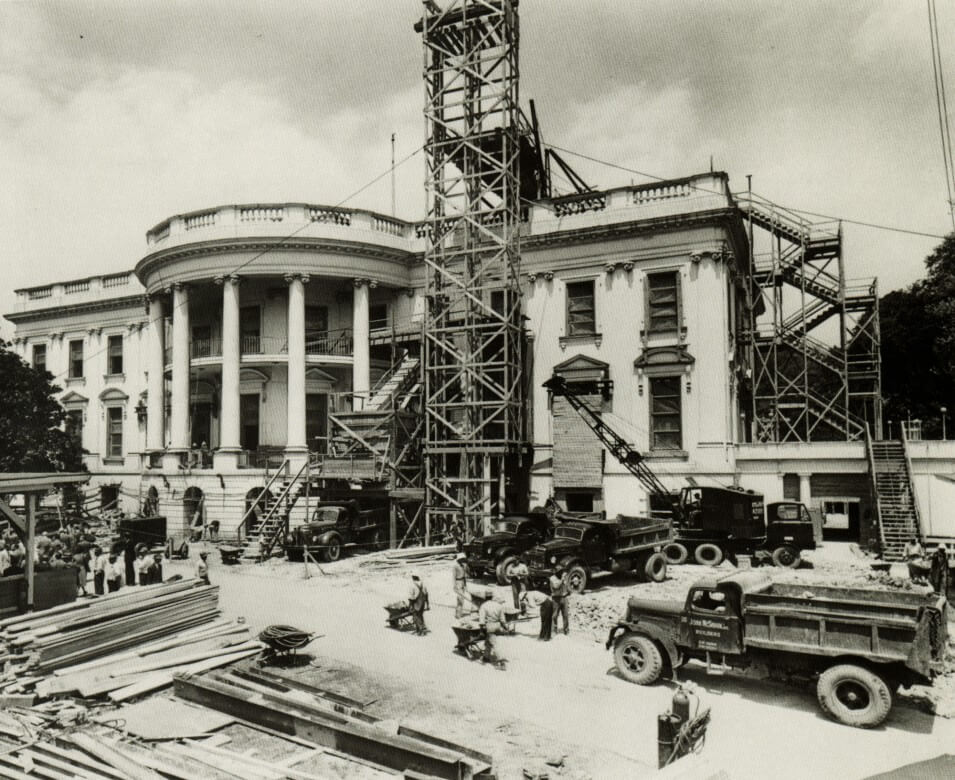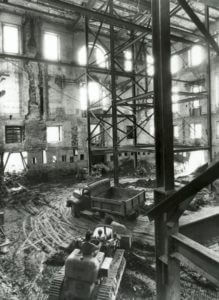 During President Harry S. Truman's administration, the White House underwent an extensive renovation. The picture above, from the Harry S. Truman Library, shows the south façade on May 10, 1950. Fortunately, while touring part of the demolition site one day, President Truman noticed that many of the interior blocks in the rubble bore a stone mason's mark. Such a mark is the de facto signature of a mason who worked at hewing and setting stone.
President Truman was well-qualified to notice the marks. In fact, Brother Harry S. Truman was initiated on February 9, 1909 at Belton Lodge No. 450. Then, in September 1940, at the Annual Communication of the Grand Lodge of Missouri, peers overwhelmingly chose him as the 97th Grand Master of Masons of Missouri.
Origin of the White House Stones
Upon examination, experts determined that the White House stones originated from a Lodge of Journeymen masons number 8 in Edinburgh, Scotland. No. 8 was designated a Masonic Lodge in 1707, but the masonry trade dates back centuries before that. Scottish government records show that they issued a Seal of Cause to the wrights and masons trade organization in the late 1400s. This Seal of Cause system evolved into the Lodge and Chapter system we know today.
A lesson taught in the Masonic degree of Mark Master states that workers identified their work, and thus their right to be paid, by making a mason's mark on the stones they prepared for use. While we can never be absolutely certain, we can surmise that these trade "marks" enabled the White House builders to earn their wages, and better support themselves and their families.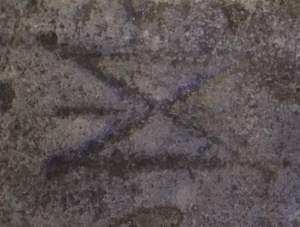 Marked Stone Given to Grand Lodge of Minnesota
Thoughtfully, President Truman saved and donated these special stones to state Masonic Grand Lodges, along with a letter. The White House stone in the Minnesota collection, with a stylized butterfly mason's mark, is on display in the Col. James B. Ladd Museum's Gallery Six.
Truman's letter to our Grand Lodge states, in part: "These evidences of the number of members of the Craft who built the President's official residence so intimately aligns Freemasonry with the formation and the founding of our Government that I believe your Grand Lodge will cherish this link between the Fraternity and the Government of the Nation, of which the White House is a symbol."
Thank you, Brother President. We most certainly do cherish this emblem of the intimate connection between our great Fraternity and our Nation.
Visit the Colonel James B. Ladd Museum and Charles W. Nelson Library to see the special White House stone and other Masonic artifacts!
The White House Stone with a Mason's Mark