The Temple of Solomon
December 31, 2019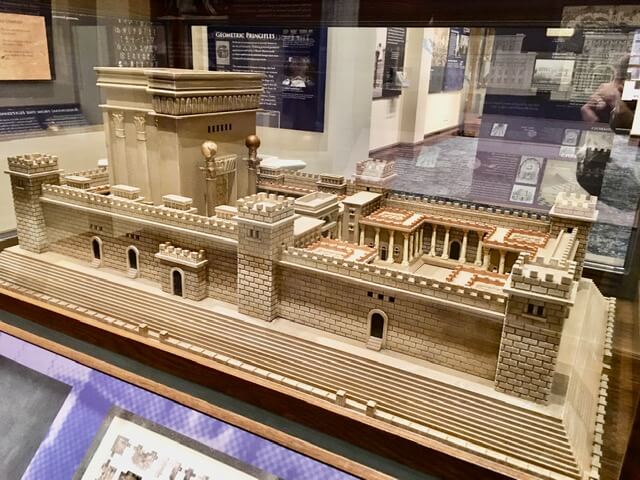 The Temple of Solomon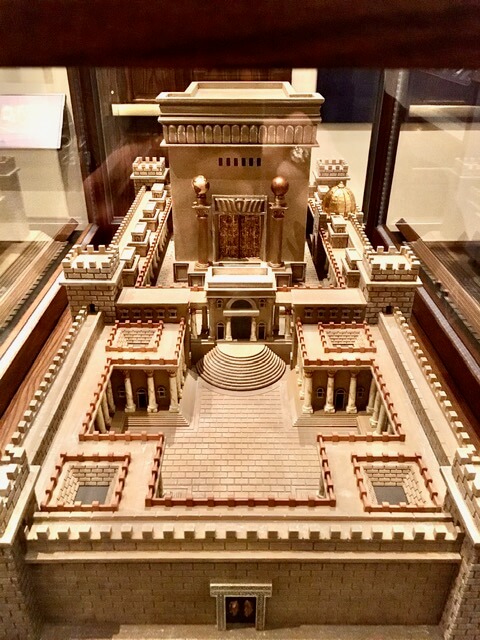 If you've been to the James B. Ladd Museum, you've no doubt seen the scale model in the farthest corner of the room…an artist's rendition of Solomon's Temple in ancient Jerusalem. It wouldn't surprise me if you wonder how something that big (2' W x 4' L x 16" H) was cast, because it must have been done in bronze. I'll let you in on a secret: it wasn't cast, and it isn't bronze.
One Saturday afternoon in 2019, Twin City area artists Nancy Stiefeld and Steve Bergman came to the Heritage Center with guests from out of state in tow. Nancy and Steve wanted to show their relatives the project (the Temple) which consumed a large part of their winter and spring of 2016. Not knowing any information about the model, I asked the artists for information relative to it: what materials were used, how was it constructed, etc. Surprisingly, the model was constructed of wood, clay, and PVC!
The project was based on computer-aided design (CAD) three-dimensional plans, derived from a 1/4 inch:1 foot scale model we own. The finished product is approximately 1/2 inch:1 foot scale. The base is solid medium density fiberboard (MDF), cut with a computer numerical control (CNC) router. Most of the structure is made from Sintra® board (closed cell polyvinyl chloride, or PVC) of various depths, but mostly 1/4 inch thickness was used. The shapes of the wall, individual bricks, etc., were also done by router. Some bricks were hand scribed; all were sand blasted to give them texture.
Using polymer artist's clay made creating certain intricate items possible. Clay formed the dome, the bronze doors, and the brazen altar. Baking hardened the clay, and subsequently the items could be painted.
One of the most unique features are the great pillars Jachin and Boaz, on the porch of the Temple. Modeled after the pair at the entrance to the Heritage Center, these two were made in a machine shop. The capitals and network were done by hand, in clay. Topping off J&B are the celestial and terrestrial spheres, wood balls hand scribed with the appropriate artwork for each.
Ms Stiefeld and Mr Bergman spent no fewer than 400 hours creating this model, which is loosely based on eight hours a day for two months. When you have a chance, please stop by and look closely at this version of Solomon's Temple…it is a true masterpiece in miniature.
Fiat Lux,
Mark Anderson