The Zarthan Lodge Bible
March 24, 2020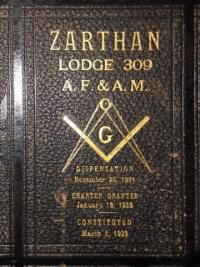 When taking inventory of the Nelson Library, there are many, many copies and versions of the Holy Bible to be found. They are small and large, in good and not-so-good condition, Masonic and non-Masonic style.
By definition, a Masonic bible typically has Masonic symbols stamped on the cover, additional informational pages, and places to enter dates for degrees received. Variations for the Order of the Eastern Star, Job's Daughters, Royal Arch Order of High Priesthood (and so on) may follow in a similar format as the Lodge-style bible, but with items specific to the particular organization.
The subject of this piece is, and is not, a Masonic Bible. The Zarthan Lodge bible was a stock early-20th century A.J. Holman bible to which items peculiar to the Symbolic Lodge have been added. A.J. Holman did produce Masonic bibles, but this isn't one of them. A.J. Holman's (now B&H Publishing Group) beginnings go back to 1738, and their products were known to be quality goods.
This volume is 37 cm tall x 30 cm wide x 9 cm thick, with gilt-edged pages, and weighs over five pounds. Stamped on the front cover is:
ZARTHAN LODGE 309 A.F.& A.M.
(square & compasses)
DISPENSATION November 26, 1921
CHARTER GRANTED January 19, 1922
CONSTITUTED March 1, 1922
There are ribbon bookmarks for the Entered Apprentice and Fellowcraft degrees, on which the working tools of each have been hand painted. The Master Mason bookmark is missing.
Up to this point, there's nothing remarkable about this Bible. Its uniqueness begins behind the front cover. On back of the front cover is a Brush's Photo Studio montage of the first: Master (Edgar Francis Comstock), Senior Warden (Wesley Charles Bryant), Junior Warden (Artemas Rice Hopkins), and the first Brother Raised (Richard Charles Winters). The following three of four flyleaf pages list the names of the 158 Charter Members of the Lodge, as well as the first 10 Brothers raised, on April 29, 1922. The hand-written Engraver's script, a lost art, was done by an unknown person.
You could say that this volume of wisdom from which we draw strength has been adorned with beauty. Though in poor condition (translation: well-used), this Volume of Sacred Law, now nearly 100 years old, is a commemoration of those who left it to us and future generations.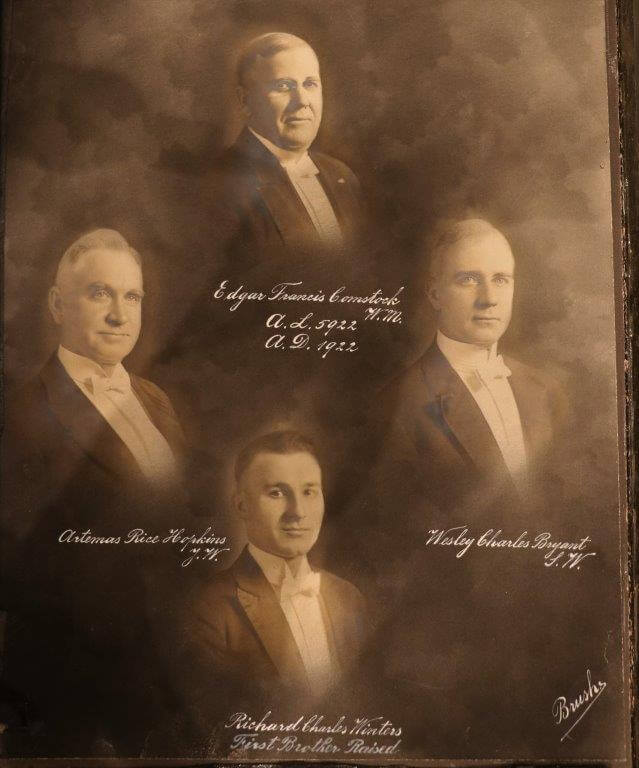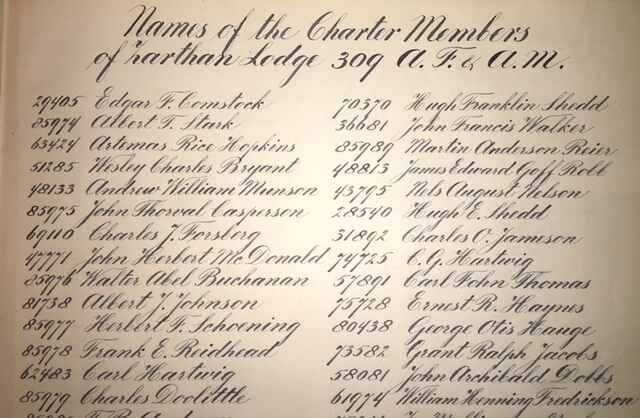 Fiat Lux,
Mark Anderson