Research sources and study possibilities in the Nelson Library
April 21, 2023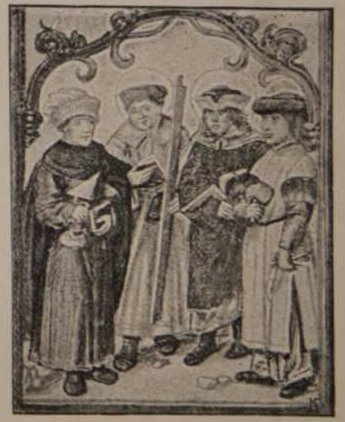 Libraries are places to learn; both for what-is-where as well as for self-edification. Here are some items from Charles W. Nelson special library at the Minnesota Masonic Heritage Center…perhaps they may incite your curiosity to begin your own search for knowledge.
Do you think library = books, magazines, newspapers, and a 3×5 inch card catalog? The modern-day library includes these (but probably not the 3×5 cards) as well as computers with internet access, DVDs, CDs, and more. The Nelson's "card catalog" is a World Wide Web-based library software package, so you may view and search the catalog from anywhere in the world. Libraries fit hand-in-glove with Masonic principles, because Masons are taught to continually seek knowledge in order to be a better man, husband, father, son, friend, and mentor.
While we don't have stone tablets with cuneiform characters or papyrus paper with hieroglyphics, it should come as no surprise that the oldest form which we do have on hand is books, some between 300–400 years old. Among other things, we have several scholarly journals and collections of papers in the Nelson, a few of which are featured below.
Ars Quatuor Coronatorum
We're fortunate to own the bulk of the set: Ars Quatuor Coronatorum, being the transactions of the Lodge Quatuor Coronati No. 2076 of London [England]. Why is this important? To quote from the Lodge's website: "Quatuor Coronati is the world's premier Masonic research lodge. Established in 1884 and consecrated in 1886, our founders adopted an evidence-based approach to Masonic history that replaced the more imaginative writings of earlier authors; it became known as the 'authentic school' of Masonic research."
Lodge QC 2076 takes its name, "Four Crowned Martyrs" in honor of the traditional patron saints of stonemasons. The legend of the QC takes place late in the Third Century CE. Four stone masons were asked by the Roman emperor Diocletian to carve the image of Asclepius, the god of medicine. As recent converts to Christianity, they refused to do so, because they were forbidden to produce an image of a pagan god. As a result, Diocletian had the four executed.
Beginning in 1888, QC 2076 has published its transactions (meeting minutes and research papers) annually. Photo 1 shows the frontispiece and title page from Volume 1 of Ars Quatuor Coronatorum. Only 250 copies were printed for world-wide distribution of this work; this fact alone makes it a rare volume. Unfortunately, how we acquired ownership of it has been lost to the sands of time.
The Builder
In 1915, Iowa Freemason and author Joseph Fort Newton began editorship of Volume 1, Issue 1 (photo 2) of The Builder – A Journal for the Masonic Student. It was produced by the newly-created National Masonic Research Society as a way to diffuse Masonic light and understanding (the purpose for which is now ably served by the NMRS' heir apparent, the Philalethes Society). It covered Masonic history, philosophy, jurisprudence, poetry and more. The Journal also encouraged its readers to write in with commentary and engage in points of discussion. A serial publication, it began in January 1915 and ran until May 1930, when it ceased without warning. The Nelson Library has the complete collection of 185 issues.
The Philalethes
The aforementioned Philalethes Society began in 1928, but it wasn't until 1946 that the group had its own publication, The Philalethes. Now in its 95th year (2023), the Society fully embraces modern-day technology in its undertakings. An example of this is a CD-ROM they produced, containing the first fifty years of The Philalethes magazine (Photo 3). In addition to a print version, a digital copy is also sent to members, by e-mail.
Heredom
Beginning in 1992, the then-new Scottish Rite Research Society published a collection of papers in a volume called Heredom. At first primarily about the Scottish Rite degrees, Heredom has expanded in scope to include studies about all of Masonry. Members of the SRRS also receive a Bonus book, ranging from Masonic Philanthropies to the most recent, the nearly-900 page Albert Pike's The Porch and the Middle Chamber: The Book of the Lodge – A Ritual of the Scottish Rite Blue Degrees (photo 4). All of these volumes may be seen in the Nelson library.
We've barely scratched the surface of our collection! You are welcome to search the Nelson Library in person, or online at: mmhc.goalexandria.com.
Have a Masonic topic into which you'd like to delve more deeply? Please get in touch!
Fiat Lux,
Mark Anderson, KYCH, OPC, 33˙
Library and Museum Coordinator
---
Research sources and study possibilities in the Nelson Library