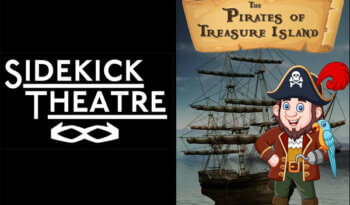 Get Tickets
The Pirates of Treasure Island
June 27, 2023–August 11, 2023
Enjoy adventure with the pirates of Treasure Island!
A Swashbuckling Musical for All Ages.
Sail off on a fantastic musical excursion of pirates, treasure maps and high seas adventures. This thrilling new tale follows a young man who is enlisted to join in a race for buried treasure against a band of treacherous pirates. Packed with swashbuckling action, hysterical hijinks and enthralling music, THE PIRATES OF TREASURE ISLAND is great fun for all ages and includes the audience in the action!
Performances Mondays - Fridays at 10:00am and 12:30pm. Runs from June 27 - August 11.